Whether you need industrial lighting for an assembly line or a garage
,
IP65 industrial linear lights
are an excellent choice. The high-quality IP65-rated fixtures feature a polycarbonate opal diffuser, a 10kV rated IP rating, and a high ingress protection rating (IP66). You can also choose from three, six, or nine LEDs. This type of fixture will meet IP65 and UL requirements for use in the harshest environments.
IP65-rated industrial linear lights are also durable and offer a wide range of colour temperatures. Colour temperatures are important for human vision and can be used to create a mood or atmosphere in a space. For example, neutral white (4,000 kelvin) is recommended for offices and retail settings, as it creates a neutral environment. LEDs are also highly efficient, with low energy consumption and inherent longevity making them an excellent choice for commercial lighting. There are three types of LED Linear lights: recessed, pendant, and surface-mounted.
IP65 industrial linear lights feature an integrated LED light source that delivers high brightness and low power consumption. Its wide beam angle is perfect for lighting offices, work spaces, and warehouses. The manufacturer provides a five-year warranty, assuring durability. They are also available with mounting accessories to connect multiple lamps in a series. And with their low price, they are a great choice for any commercial lighting application. So, make your workspace more energy efficient and productive with these IP65 lights.
IP65 industrial linear lights are ideal for outdoor venues and meeting rooms. They can withstand dirt, dust, and moisture, and can also achieve an IP66 rating for added protection against weather conditions. In addition to being waterproof, IP65 industrial linear lights are also rated against vapors and solids. If you want to buy LED lighting for an outdoor venue, you should choose IP65 industrial linear lights. But be sure to research them first to be sure they'll fit your needs.
Another advantage of IP65 LED light fixtures is their high CRI. This is an important feature for outdoor lighting, since it can make visibility easier. This helps minimize the chances of accidents, and damages to other vehicles. Furthermore, LEDs are a great choice for large spaces where a high amount of light is needed for extended periods. Compared to incandescent lights, they are inexpensive. You don't want to risk the safety of your employees or customers by using ineffective and unsuitable lighting for your outdoor space.
One advantage of IP65 LED lighting is that it's able to withstand high temperatures, shocks, and vibrations. This means that you can choose the type of lighting that best suits your space. IP65 LED lights can last up to 75,000 hours. They're also far safer than traditional lighting and are designed to be more durable. You won't have to replace them very often because of their low cost and long lifespan.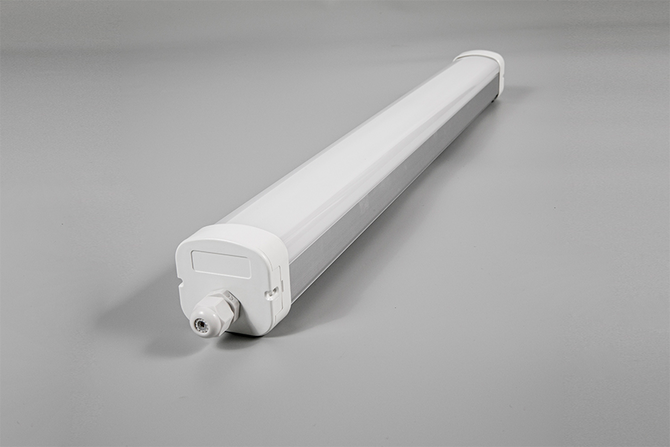 Outdoor LED IP65 waterproof batten energy efficient lamp extrusion led lights
named 
VSAL
,which a perfect connect of PC cover and aluminum bottom case. It is also with convenient wiring when opened and closed.
IP 65 rating, non-corrosive PC housing,aluminum body, design looks upscale.And inside,designed as replaced LED module,easy for maintain.
5 years warranty make sure it is works for a long time.
Wide application- widely used in Car wash, Warehouse, Barn,Walk in Freezer,Gas Station, Parking Garage and industrial Kitchen, Stairwells,Tunnel, Patio outdoor venues,etc. Where moisture is a concern.


Name

Tri-proof Led garage light Impact resistant industrial luminaire VS18ALS-60

Product parameter

Item

Tri-proof Led garage light Impact resistant industrial luminaire

Housing

PC cover and Aluminum bottom shell

Watt

18W

Product Size

600x58x55mm                        

Lumen

110lm/w

Color temperature

2700k--6500k

Beam Angle

120°

Driver

Vison driver

Function

Emergency&Microwave Sensor