A waterproof batten lamp offers many benefits. This type of lamp is highly resistant to dust and moisture, and its rugged design ensures long life. A company waterproof batten lamps with a range of smart features, including no uncovered bulbs. These lights are ideal for outdoor settings, such as patios or poolside areas, as they are safe from dirt and moisture. Here are some other advantages of waterproof batten lamps.
High luminescence and durability are two of the main advantages of a waterproof batten lamp. It is suitable for use in outdoor areas, warehouses, and factories. The lamp is made of durable polycarbonate material, which ensures excellent light performance even in extreme conditions. The light distribution is excellent, so you'll never have to worry about losing the light. Unlike other types of lighting, LED lights do not require frequent replacement and offer constant light output throughout its lifespan.
The latest LED technology in the line of waterproof batten lamps provides high-quality light at a fraction of the energy of traditional lamps. With up to 64% energy savings,LED Waterproof Batten Lamp is an excellent option for new buildings, as well as renovations. It also enables users to save money on maintenance costs and energy. This makes it an ideal choice for both commercial and residential lighting applications.
Available in 4ft (1200mm), 5ft (1500mm), and 6ft (1800mm), these LED batten lights are perfect for exterior spaces. They are durable and are protected by a three-year warranty. They are ideal for garages, car parks, and warehouses. The light is also IP65 rated, making it ideal for outdoor use.
The LED batten light is another option for public lighting. They offer high illumination and are environmentally-friendly. They are cheap and energy-efficient, and can be paired with any commercial LED tube. Unlike conventional lights, LED batten lights are waterproof. They are reliable and stable in any climate, making them a good choice for public spaces. And they are safe to use. And they also don't cause any fire risk or damage.
If a waterproof batten lamp is not installed correctly,
water can seep through the gap between the wire core and the plastic shell. This will cause the plastic shell and coating to deform, and water vapor will enter the lamp's interior. As a result, the lamp will begin to lose its air tightness and start leaking. This can result in considerable damage. However, a waterproof batten lamp is still a great investment in any home.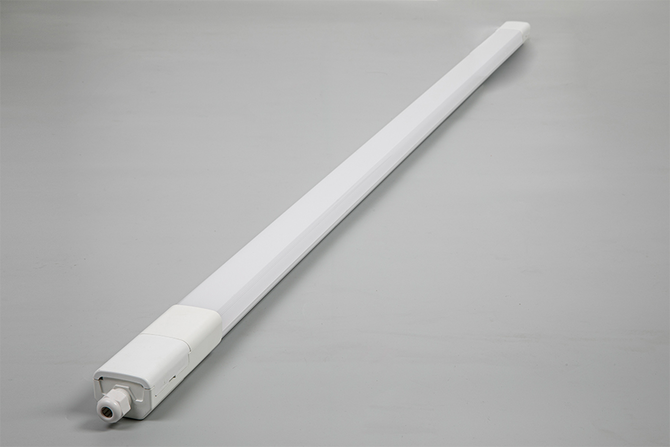 Slimline LED batten light CCT linear batten lights bright task lighting 
Name

LED IP65 industrial slimline linear batten lighting luminaires VKT-1548/VKT-1560

Product parameter

 

 

 

 

 

 

 

 

 

 

 

Item

LED IP65 Industrial Linear Batten Lighting Luminaires

Housing

PC body

Watt

48w/60w

Product Size

1520x53x41mm                          

Lumen

6000lm/7500lm             

Color temperature

2700k--6500k

Beam Angle

140°

Driver

Vison driver

PF

>0.9

RA

>80

IP

65

Function

CCT adjustable