LED batten lights are an ideal option for industrial lighting applications. They have a low energy consumption and high brightness and are easy to install. They also have excellent stability and are resistant to thermal activity. They can be used in a variety of applications, from warehouses to retail shops.
If you want to install LED batten lights in your industry, there are a number of important factors to consider. One of the most important is the quality of the LED chip. High-quality LED chips will last for many years and decrease in light output only slightly. However, you will have to pay a little extra for a high-quality chip.
Another consideration is the colour temperature. A lower Kelvin value indicates a warm-coloured light while a higher Kelvin value produces a bluer light. The Kelvin scale for batten lights ranges from 3500-4100K for white ones to 5000-6500K for blue ones.
LED batten lights are an excellent choice for both interior and exterior applications. They have a low energy consumption and are more attractive than the old-style versions found in many commercial buildings. Most lighting retailers stock a range of LED batten lights and will be able to help you decide on the best type of lighting for your environment. Some may also offer local government rebates.
An LED batten light is also an excellent option for highlighting popular products and areas where customers spend most of their time.
Since retail stores operate for long hours, they usually require a high amount of lighting to maintain a comfortable environment. Increased lighting consumption increases electricity expenses for the store owner.
LED batten lights have energy efficiency and are an ideal choice for public and private areas alike. They are also a great replacement for fluorescent batten lights. Moreover, LED batten lights last longer and require little maintenance. In addition, they are compatible with other types of lighting. So, if you're considering installing new lighting in your industrial premises, consider these advantages!
LED batten lights have an IP65 weatherproofing rating. They can be suspended or surface mounted and are resistant to dust and insects. They are also made of sturdy aluminum and polycarbonate. They also offer superior glare control compared to older models. And, they come with warranties for three years.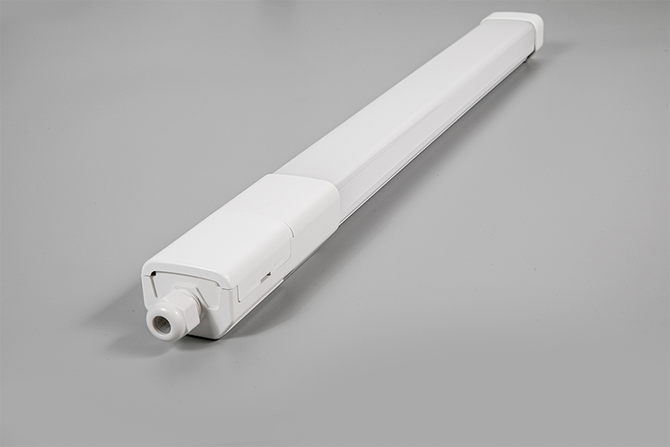 =
LED IP65 industrial slimline linear batten lighting luminaires VKT-0618
Name

LED IP65 industrial slimline linear batten lighting luminaires VKT-0618

Product parameter

Item

LED IP65 Industrial Linear Batten Lighting Luminaires

Housing

PC body

Watt

18w

Product Size

620x53x41mm                             

Lumen

2250lm      

Color temperature

2700k--6500k

Beam Angle

140°

Driver

Vison driver

PF

>0.9

RA

>80

IP

65

Function

CCT adjustable