When purchasing a Waterproof LED light for your home,
it is essential to know what you're looking for. Waterproof LED lights should have a high IP67 rating in order to be completely protected from water and solid particles. These lights are perfect for both domestic and commercial settings. These lights also feature a remote control that can control them for a convenient, customizable underwater experience.
LED strip lighting is a versatile choice that is especially useful for applications with limited space. These lights have built-in drivers, which means you don't have to worry about bulky drivers or other components. Additionally, LED strip lighting has a thermal control that cools off the LEDs when they get too hot.
Waterproof LED strip lights are an excellent choice for exterior applications, as they can withstand heavy rain. While IP68 protection is the highest available, some waterproof LED strips come with lower protection levels. If you plan to use your strip lights outdoors, consider a Waterproof LED light strip that is rated IP65.
Ingress protection rating is another important factor when choosing a waterproof LED light. The higher the IP, the better. You want an IP65-rated light that can withstand splashes and heavy rain. Also, you want to consider that LED lights will be exposed to dust and other solid objects while they're working, so you can rest assured they won't get damaged.
You should also consider the type of surface you'll be placing the LED light strips on. Some models feature adhesive backings for a more secure installation. If your surface is bumpy, use an adhesion promoter to ensure the strips will stay glued to the surface. Other options are mounting strips, which can be screwed into a surface.
Outdoor LED strip lights come with an IP65 or IP68 rating, which means they're suitable for most outdoor and indoor applications. They can also withstand splashes of water from any direction. These are perfect for gazebos, patios, and outdoor areas. In addition to being waterproof, these lights are energy efficient. They use about 10% of the energy needed to power a traditional incandescent light bulb.
Waterproof strip lighting uses a heat-shrink tube or silicone sleeve. It is also protected from water and dust, but does not protect them from permanent immersion. Some waterproof strip lights have an IP68 rating and do not use peel-and-stick adhesive backing. For outdoor applications, you may need to apply supplemental adhesive to protect them from water.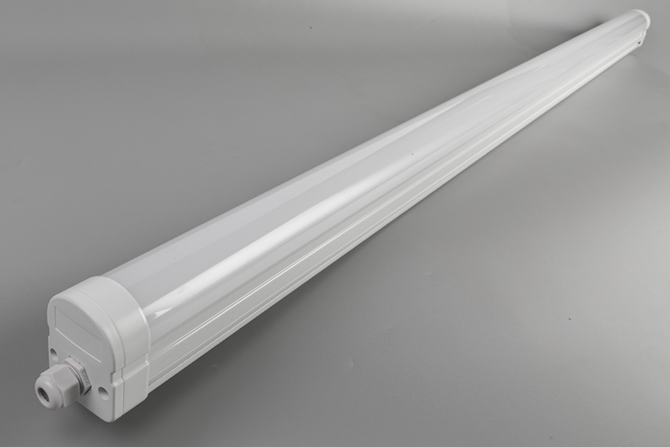 Waterproof lighting wider illumination range light 2835 LED chips 120°beam angle cost less electricity VS48EB-150
Made of PC material. High quality plastic lampshad and body. Long lifespan is up to 30000 hours. It can no only save the cost of lamp replacement , but also provide a much brighter place for you.
High brightness 2835 LED chips, the brightness is higher than traditional light bulbs, also cost less electricity. 120° beam angle can provide you with wider illumination range.
Can be widely used in garage, shop,office,hallway, market, restaurant and packing lot.  


Name

IP65 Water-proof Light LED Linear Batten Luminaires VS48EB-150

Product parameter

 

 

 

 

 

 

 

 

 

Item

IP65 Water-proof Light LED Linear Batten Luminaires VSEB

Housing

PC Material mix extrusion

Watt

48W

Product Size

1500x60x74mm              

Lumen

5280lm           

Color temperature

2700k--6500k

Beam Angle

120°

Driver

Vison driver

Function

Emergency or Microwave sensor

PF

>0.9