Unlike conventional linear lighting systems,
linear batten luminaires
are an energy-efficient and environmentally friendly alternative. They can be used in many different ways, including surface-mounting, suspended installation, and recessed installation. They are also very economical. They provide a simple and effective solution to a large number of lighting needs. The long life of these lights makes them ideal for industrial settings.
Batten luminaires are designed to replace fluorescent tubes, and are widely used in a variety of applications. They offer high-quality light and efficient energy use, and are also resistant to the harsh conditions of industrial settings. They are also easy to install and maintain. You can choose from a variety of options, including LED, fluorescent, and mercury-vapor.
The most popular type of linear batten is the surface mounted model. It can be installed on a wall or ceiling, and features press-fit loops and BESA-compliant connectors. It also features a loop-out wiring termination. It can be used for a variety of lighting applications, including in warehouses, factories, and retail stores. It is also designed to be used in outdoor applications. The LED lighting system is also waterproof, making it a great choice for wet areas.
Another popular option is the slimline model. It has a slim report that directs 120 degrees of light at products. It is available in a variety of lengths, including 600mm and 1200mm. It is also available in an array of colors and temperatures.
LED Batten Lights are also a popular choice for replacing fluorescent fixtures. They are designed to save energy, and provide uniform lighting distribution. They also have a long lifespan and strong moistureproof function. They are a cost-effective alternative to fluorescent lighting. They are also available in strip form. They have many uses, including air FX lighting, bars, and dance halls. The color temperature ranges from 2500k to 6500k, and the luminaire can be mounted in a continuous row or individually.
LED IP65 High Output Linear Batten Luminaires are an energy-efficient alternative to traditional linear batten fittings. They can replace two twin 35W T5 fluorescent battens, and provide a maintenance-free solution. They are available in recessed and halted versions, and feature LED technology to reduce glare. They are also available in a variety of performance modes.
The LED linear luminaire features an 800A panel board, 12 individual pixel mapping controls, and large front lenses. It is available in a variety of performance modes, including 5-LED PARs, 5-LED PARXs, and 9-LED PARs. The product also has a low-noise cooling option. It is also available in a variety of sizes, including 1 meter, and in different lengths.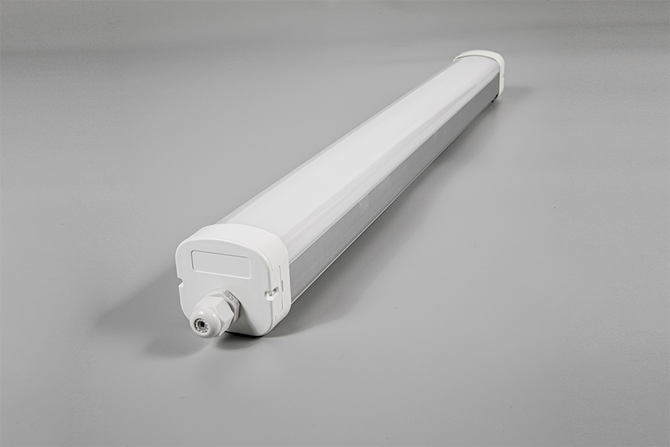 Outdoor LED IP65 waterproof batten energy efficient lamp extrusion led lights
named 
VSAL
,which a perfect connect of PC cover and aluminum bottom case. It is also with convenient wiring when opened and closed.
IP 65 rating, non-corrosive PC housing,aluminum body, design looks upscale.And inside,designed as replaced LED module,easy for maintain.
5 years warranty make sure it is works for a long time.
Wide application- widely used in Car wash, Warehouse, Barn,Walk in Freezer,Gas Station, Parking Garage and industrial Kitchen, Stairwells,Tunnel, Patio outdoor venues,etc. Where moisture is a concern.


Name

Tri-proof Led garage light Impact resistant industrial luminaire VS18ALS-60

Product parameter

Item

Tri-proof Led garage light Impact resistant industrial luminaire

Housing

PC cover and Aluminum bottom shell

Watt

18W

Product Size

600x58x55mm                        

Lumen

110lm/w

Color temperature

2700k--6500k

Beam Angle

120°

Driver

Vison driver

Function

Emergency&Microwave Sensor