Compared to other LED lamps, the Tri proof LED light offers better illumination and saves energy. Besides, tri proof LED lights also have a long lifespan. It can operate at low temperatures of -20degC. This makes it very suitable for industrial and factory ects. Tri proof LED lights are also available in various designs and color. They are multi-mountable and ceiling mounted. Tri proof LED lights are environmentally friendly and have no harmful gases of mercury.
Tri proof LED luminaires are ideal for factory ects and warehouse lighting. They are also used in plant rooms, basement garages, and parking eara. They can also be used in outdoor settings. They are durable and bright. The LED fixtures offer a long lifespan of 75,000 hours. There are no reported issues with the lighting fixtures. They are also backed by 5-year warranty.
The IP65 LED Tri Proof light is one of the best options for industrial lighting.
It can be used in areas where there is a lot of water and dust. It is also used in petrochemical plants, steel plants, and parking lots. It also has a good effect on anti-corrosion.
Tri proof lights are ideal for indoor and outdoor applications. They are also widely used in areas like parking lots, basement garages, and factories. It is easy to install and has a long lifespan. They are also resistant to moisture, water, dust, and shock. The IP65/IP66 tri proof light is very suitable for these applications. It also has a sensing function and high energy conversion efficiency.
The Tri proof LED light is made of insulated fire proof PC cover, high quality LED chips, and compact high PF driver. It is resistant to water, dust, shock, and corrosion. It also has a microwave sensor. Its color temperature is from 3000-6500K. It also has a long life of 50,000 hours. It can be controlled by any control system. It has a corrosion resistant glossy white polycarbonate cover. It is easy to surface mount. It has adjustable wattage. It is available in 9 SKUs.
It is also available in suspended installation. It uses Epistar SMD2835 chips. It is available in suspended installation and LM80. It can be used for warehouse lighting, service center lighting, and exhibition hall lighting. The LED fixtures are also available in 2 or 4 rows. They are easy to retrofit and come with a 5-year warranty.
The ip65 tri proof led light fixture is made of full pc materials. It has a normal power of 20W. It can be extended to 1.8 meters. The silicone sealing rings are designed to provide maximum sealing of the luminaire without affecting the lighting. The IP65/IP66 tri proof LED light is designed for indoor or outdoor use. It is easy to install, and you can install it in series or in surface parts.
The mini Tri proof light is widely used in underground tunnels, subway stations, and airports. It is also connectable and replaces the traditional tri proof lights. It is also widely used in wet areas like parking lots and underground tunnels.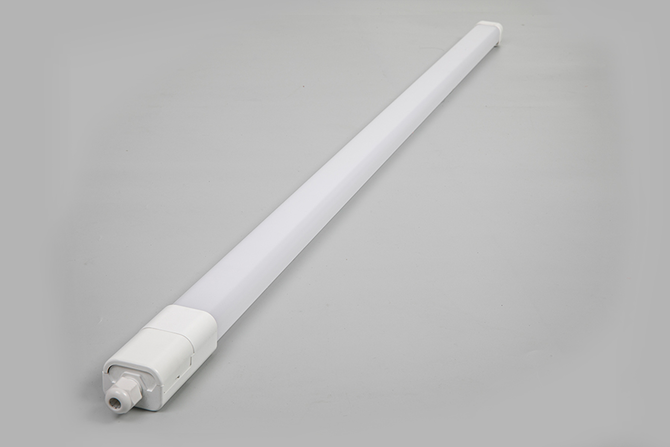 The LED IP65 tri-proof batten light named VSEC is perfect for supermarkets' promotion.Energy saving, High Brightness and Low Consumption, Eye Protection,Flicker free.
The LED IP65 tri-proof batten light is offer installed in the following indoor enviroments:
-Kitchen cabinet or bench stop
- Convenience or other store aisle
- Garage or workingshop
-Shop window
-Back office and storage areas
-Building corridors and stairwells