The SLIMLINE batten light is a modern and versatile way to illuminate your hallway, kitchen, or bathroom. Its slim profile and easy mounting make it the perfect choice for many applications. It is also energy-efficient and dimmable, so you can set the right amount of light for any area.
Its IP65 rating makes it suitable for outdoor and wet locations. The LEDs in it offer excellent energy efficiency and a longer lifespan than fluorescent tubes. They are also easy to install. Available in three sizes, the slimline LED batten light is ideal for both residential and commercial settings.
LED batten lighting fixtures are also available. These new models are designed for use in Europe and Oceania markets. They come in six-foot and twelve-foot lengths. The slimline LED batten lighting range offers reliability and cost-effective pricing.
LED batten lights are an excellent choice for your garage
because they enhance the lighting experience while remaining eco-friendly. Unlike fluorescent lights, these LED fixtures do not absorb moisture and are dust-proof. Their aluminium bodies, polycarbonate opal diffuser, and in-built irreplaceable LED lamp ensure the longevity of the lighting fixtures. This type of lighting also offers a colour temperature of 4000K.
LED batten lighting offers a better balance between price and quality. Its slim profile and LED technology are highly efficient and reduce energy consumption. LED batten lights come with a three-year warranty and are CE and Rohs compliant. The LEDs are also shock-resistant and flicker-free. Furthermore, they can be used indoors and outdoors.
LED batten lighting is the latest generation of batten lighting. Its slim aluminium body makes it suitable for both outdoor and indoor applications. It features a long lifespan, low power consumption, and a 4000 K colour temperature. It is a stylish and efficient solution for illumination in industrial settings.
LED batten lights are designed to operate using a long-lasting lithium-ion battery. Their brightness can be adjusted with a switch and they are suitable for surface-mounting. This type of light is particularly useful for highlighting artwork and photo frames. These lamps are also lightweight and can be easily mounted in your home.
LED batten lighting is a popular option in commercial settings. They have a low power consumption and are ideal for replacing fluorescent tubes. They are environmentally friendly, lead-free, and can last for over 50,000 hours. They are suitable for many commercial and industrial applications, and can replace fluorescent tubes and are ideal for hallways and reception areas. They are also compatible with the latest office lighting standards.
LED batten lights are fast becoming an alternative to fluorescent tube fixtures. LED batten lights are extremely energy efficient and require low maintenance. They also reduce the carbon footprint of the building. They are also durable and resistant to high temperatures. They are the ideal solution for large areas of lighting.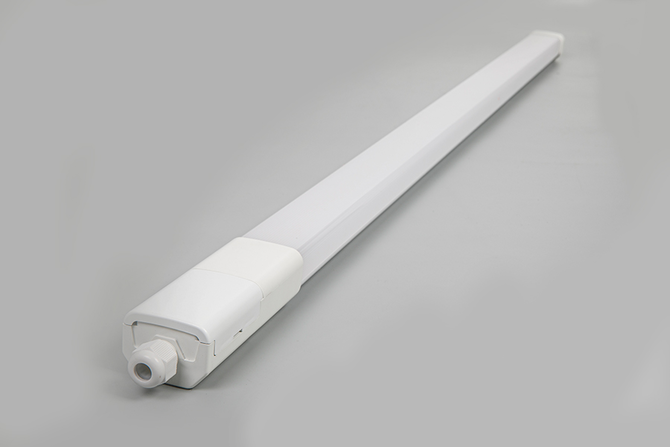 Name

LED IP65 industrial slimline linear batten lighting luminaires VKT-1236

Product parameter

Item

LED IP65 Industrial Linear Batten Lighting Luminaires

Housing

PC body

Watt

36W

Product Size

1220x53x41mm                             

Lumen

4500lm                            

Color temperature

2700k--6500k

Beam Angle

140°

Driver

Vison driver

PF

>0.9

RA

>80

IP

65

Function

CCT adjustable