When it comes to outdoor lighting, a waterproof LED light is an excellent choice. These lights provide over 48 hours of continuous light and can be submerged in water. They're easy to use and install, and are battery operated. Regardless of the situation, they will provide you with years of dependable service.
Another great advantage of a waterproof LED light is its energy efficiency. They use up to seven times less energy than incandescent lights. LED lights also have a long life span, lasting three to five years, which means you can save money on replacement costs. Plus, they're fun to use and can lift your spirits.
LED lights can be purchased with various protection levels, depending on their Ingress Protection (IP) rating. The IP rating is a standard that measures how resistant a light is to liquids and solid objects. The IP rating is represented by two numbers: the first number indicates how well it protects against solid objects, while the second number implies how well it protects against water. Generally, a higher number indicates more protection.
Another advantage to a waterproof LED light is its ability to withstand harsh environments. A waterproof LED light is dust-proof and can withstand being submerged in water for up to 30 minutes. If you are looking for a waterproof light, look for IP65 or IP67 ratings. If you live in an area where it rains a lot, you'll want to go with an IP67 or an IP68 rating.
Another advantage of waterproof LED lights is their high level of corrosion resistance.
They're resistant to ordinary alkalis and acids, as well as salt corrosion. This makes them a great option for marine and offshore applications. They are also safe for residential use and can even be used in yachts and chemical plants. So, if you're looking for an inexpensive and durable light for your home or business, make sure to check out the advantages of silicone waterproof LED strips.
Another major benefit of silicone waterproof LED strips is their high thermal conductivity. Unlike PU glue and epoxy gel, silicone doesn't turn yellow when exposed to high and low temperatures. They're also more flexible, which makes them an excellent option for applications where heat is a major concern. Nevertheless, they're not without their disadvantages.
Whether you're looking for outdoor lighting or a new fixture for your bathroom,
waterproof LED strips are an excellent choice. They're simple to install, and come in various lengths. And because they're waterproof, you can easily cut them to fit in a tight space. You can even install them on stairs and shelves.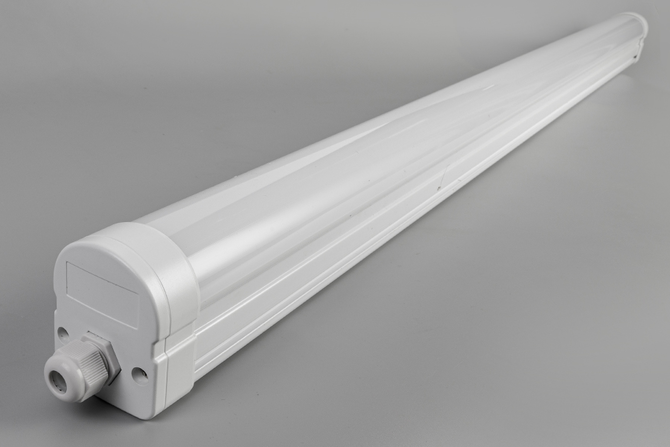 Name

IP65 Water-proof Light LED Linear Batten Luminaires VS36EB-120

Product parameter

 

 

 

 

 

 

 

 

 

Item

IP65 Water-proof Light LED Linear Batten Luminaires VSEB

Housing

PC Material mix extrusion

Watt

36W

Product Size

1200x60x74mm            

Lumen

3960lm           

Color temperature

2700k--6500k

Beam Angle

120°

Driver

Vison driver

Function

Emergency or Microwave sensor

PF

>0.9