IP65 SLIMLINE DIRECTED LED Batten Lighting
The latest IP65 SLIMLINE DIRECTED batten lighting is perfect for both indoor
and outdoor applications. They replace traditional 58W fluorescent water-proof battens and feature an aluminium body that is light and durable. These lights are extremely energy-efficient, with a 4000K colour temperature.
The SLIMLINE range is available in a variety of sizes, with IP65 rating. The battens can also be installed on a ceiling or suspended. They are incredibly durable, and come with a three-year LED guarantee and 1.5m cable. They can also be easily installed by following simple installation instructions.
LED Batten lighting is ideal for retail outlets, where they can highlight popular products. These lights can also help make retail areas appear larger, with less ceiling shadow casting. Moreover, uniform lighting helps prevent workplace accidents. In the case of retail outlets, lighting is essential for the safety of employees.
IP65 SLIMLINE batten lighting is an excellent waterproof alternative to flourescent tube equipment. They are 28mm thick and can be floor-mounted. These fixtures are highly durable, requiring minimal maintenance and are ideal for both indoor and outdoor applications. The IP65 rating allows them to be used in a variety of conditions and temperatures.
IP65 SLIMLINE batten lighting is an excellent choice for exterior and indoor applications. They provide bright, constant light and are ingress-proof. They are available in 1200mm and 1500mm lengths. They are also ideal as slimline replacements for fluorescent waterproof battens.
IP65 SLIMLINE batten lighting features ultra-modern designs and virtually no maintenance. Whether installed indoors or outdoors, they can easily be installed and are easy to use. IP65 SLIMLINE batten lighting can replace fluorescent lighting in a commercial setting. And the light is energy-efficient, with a colour temperature of 4000K.
LED Batten lighting is another great choice for indoor or outdoor areas. These lights use less energy than fluorescent tubes and offer consistent, uniform luminosity. They are also durable, and can endure high temperatures. This makes them perfect for large spaces and public places. They last a long time, and they are also eco-friendly.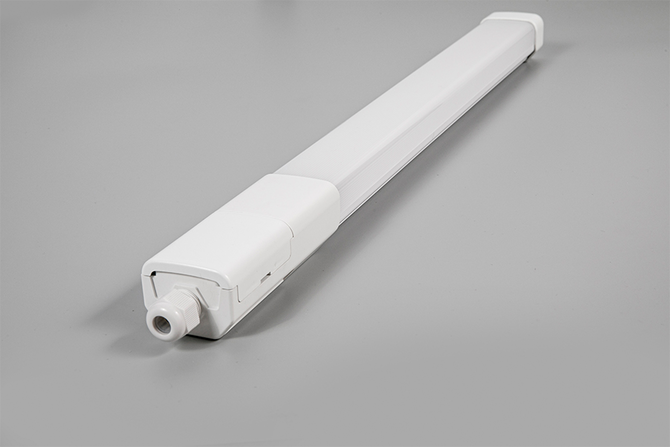 LED IP65 industrial slimline linear batten lighting luminaires VKT-0618
Name

LED IP65 industrial slimline linear batten lighting luminaires VKT-0618

Product parameter

Item

LED IP65 Industrial Linear Batten Lighting Luminaires

Housing

PC body

Watt

18w

Product Size

620x53x41mm                             

Lumen

2250lm      

Color temperature

2700k--6500k

Beam Angle

140°

Driver

Vison driver

PF

>0.9

RA

>80

IP

65

Function

CCT adjustable